What have the penguins been doing since we cleared VP for the first time? Well apart from the usual farming business we all were waiting for the release of the Epic Weapon Timelines, and for Avatars coming back to Norrath. As you can see from Siddartus' sneak peak, it didn't take us long to get all the Mythical Epics asap, getting
SERVER DISCOVERY on every weapon of the classes we have in roster
even if he forgot to add Mystic Screenshot in the news! Now Scotto won't heal you anymore ha!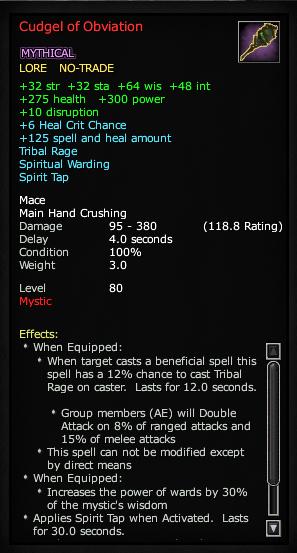 But before i go deeper in telling you what happened after GU42 release, let me show u one of the many (over 25) Serverwide Broadcasts we got in the last 2 nights of raiding (can you spot SOE's typo?)

(i picked Slaan because Door Openers (tm) need some love sometimes)
But what exactly happened, and were these quests really epic? If you want to know, keep reading
So the (in)famous Epic Timelines were finally introduced on EQ2, and since day 1 of their release our good penguins spent all the time they had to get done with them asap. The first series of quests for each class were a set of steps and subquests that ranged from gathering common/rare nodes (yay SOE for stupidity, have fun gathering 10 T7 rares when you have the luck of a crippled gazzelle that's trying to escape a lion), to killing solo mobs, from talking to never-seen-before NPCs in the most unthinkable corners of norrath to having to deal with really uber Heroic Nameds or Ring Events and everything usually helped by little-to-no hints on the journal. Classes actually had to share the infos they got WorldWide if they wanted to have a chance of getting their reward before Easter.
So for once teamwork was needed in order to succeed even in the first steps of this Epic journey, and sooner or later every fabled weapon was discovered in a matter of days after the release (the reward of the first bunch of quests which were solo/heroic is in fact a Fabled weapon), except from Defilers who had a step of the quest bugged and had to wait for a hotfix (yay SOE ><).
Think you've seen it all? That's just the beginning, in fact, you can upgrade those weapons to a truly Epic form by slaying (usually) RoK Epic nameds and acquire special updates from them (like for the previous quest, each class had their own, with their own steps, and most classes got few hints that indicated what they had to do). That's where the fun began. We quickly raided through T1 and T2 zones for the first updates (once again SOE screwed it up by allowing no more than 1 wizard or swashbuckler to get their updates simultaneously, while the other classes had no such problems), and then killed our favourite dildo in Chamber of Destiny (after he got...upgraded...you know, better vibration/speed etc). But it was only in Veeshan's Peak where we found the new surprises, starting with a well empowered Nexona who kept us busy a bit, this was turned in a truly epic fight which hopefully will be good training for Avatars, and gets the nominee for best RoK encounter so far.
Regardless of the big boost he got, in the end we prevailed, and being the
first guild
on Runnyeye killing this version, we finally got the first 2 Mythical Weapons Discoveries, grats Poh and Darlock
To cut it short, we also noticed a big upgrade to Druushk, the first wing's boss, but he got quickly dispatched by a bunch of hyperactive penguins who craved for their updates. Hoshkar got a little change aswell, but more than a nice fight the encounter was turned into a "run Main Tank, run!" fight which was quite hilarious.
So at the end of the day (of yesterday actually) we scored 29 Server-wide Messages of Mythical Loots, and 21 out of 24 weapons
discovered by us
(the 3 classes remaining are not in our roster, so it would have been a bit hard to get those, but alts are still in time!).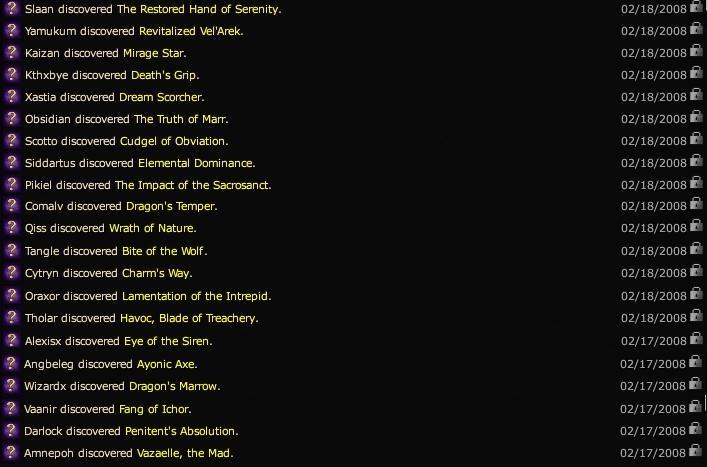 A big grats to the discoverers and to the ones who got beaten to the disco-race by split seconds (Hidden, Eoduin, Uyaem, Slacka, Chertenok, Nyssandra, Slad and Salgor), it was really awesome to see people put so much effort in this challenge that the achievement is well deserved!

GRATS PENGUINS!