Raiding guilds in Vanguard unfortunately dont have a whole lot to say, farming the same old content for years, while most of the equipment even upgrades from group content by now.
So despite the devs trying hard to make us quit (/salute and good bye to so many raiders and raiding guilds across all servers by now), Xanadu does still raid and enjoys killing the Overland bosses every week.
Once in a while we even give those odd bosses Karax and Nimaa, that have been bugged/annoying for oh so long, a shot.
While Nimaa was exploited by some guilds in the past, we never touched the mob at that time. Since the fix for that we rarely had the proper class setup online to give it many serious attempts, so it was actually a bit surprising to finally see this mob going down after only few attempts, on Monday Oct 5th! w00t


Afaik it was the WW 2nd legit kill of this mob... and Halgar's first

The loot actually did change a bit since it got added to our
DB
. Nimaa dropped: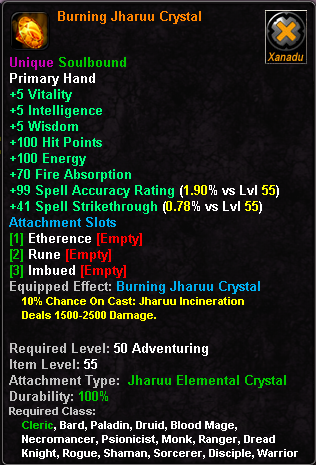 That used to have +7 on the stats and some more spell accuracy and strikethrough.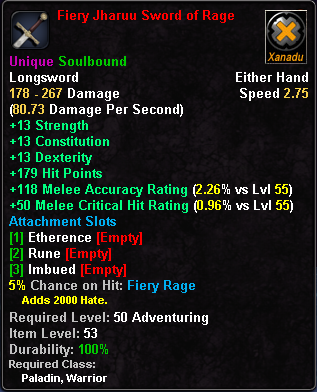 The sword used to have 147-222 dmg, and some more of all stats (141 instead of 118 melee accuracy e.g.)
And the BMG gloves didn't change: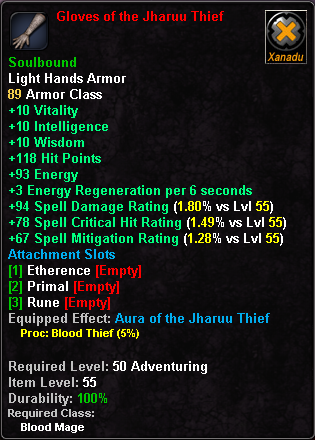 It's sad to see loot from a mob like this go to the bank, but the sword only found an owner because people wanted to see what it looked like

Talking about our loot DB btw, I wanna say big thx to all the helpers! We already got over 1.100 items there now. And its still being updated almost daily (new links, screenshot updates etc). If you see something wrong, pls make sure to file a report there! You just gotta be logged in to do that.
Ok.. so far so good.. what's next? Well, due to Karax still being bugged, I guess Sparkles is the next thing on our list. It does seem to be a cool fight, although I've got to say that crits/flurries and everything else that adds to the luck factor is not fun!

And I hope the rumours aren't true that it only drops enhancements!

Oh and also: since so many people's endurance has come to an end while waiting for meaningful raid content, I additionally want to raise your attention for our
recruitment

We can still use a few people to help us with Sparkles and upcoming content!