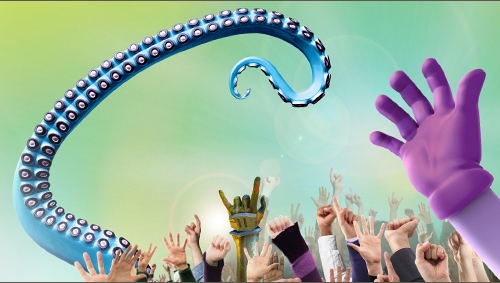 The honour is mine to bring you guys one of the first news article for the game RIFT: Planes of Telara. Those of you who know me from Xanadu and/or the official RIFT forums know how big a fan of the game I am. It therefore really excites me to have this opportunity to bring the first RIFT news to all the friends, allies, and members of Xanadu.

From last week's Thursday to Sunday, Köln (Germany) was the host of the GamesCom convention: the biggest gaming convention in Europe. This year the GamesCom pulled over 200.000 visitors. As a multi-game community, Xanadu couldn't let this opportunity slide and multiple of our members travelled across Europe to attend the convention. Rift: Planes of Telara provided the attendees of GamesCom with the opportunity to get hands-on time with the game for the first time! We got to play a large selection of souls, some already revealed and some new ones. One of the later was the bard, which as a guild we have always loved greatly throughout our time in EQ2 and Vanguard.

A large group of Xanadu members visited the GamesCom convention over the course of the 4 days it lasted. It goes without saying that most of our attention went out to the MMORPG we are all waiting for: RIFT: Planes of Telara. We knew there would be hands-on time with the game, but the extent of this hands-on time was more than we could have hoped for. A small group of Xanadu members had the honour to run through a few of the game's mid- and low level instances. Portions of our group fighting its way through the dungeon were also displayed on the big screen hanging above the TRION booth. I must say: what an amazing experience!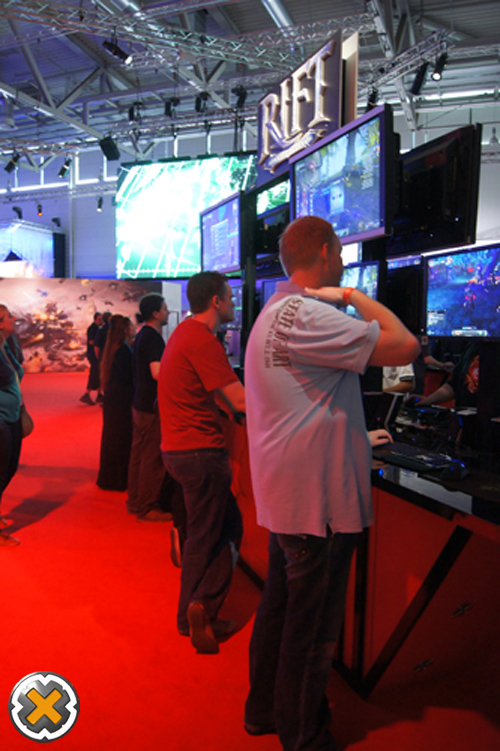 Xanadu members meet eachother for the first time in the world of Telara.


The instances we went through were Deepstrike Mines, Iron Tomb, and Darkening Deeps. During this time I had the honour of getting the first hands-on time with a soul combination of the Assassin, a starter soul, and the Bard, a heroic soul. The experiences I had during this play time I would like to share with you all here. Please keep in mind that these are my impression from a relatively short gaming sessions and are not in any way based on feedback or confirmation from the RIFT team. Moreover, RIFT is still in it's alpha phase of development and between now and release everything is subject to possible changes.

The Bard
My first thought when setting up this Assassin/Bard character was that both souls appeared to have a good synergy. Supplementary DPS from the Assassin with strong group enhancement from the Bard. While playing, I found that the synergy wasn't as good as I initially thought it would be. The main problem I faced was the limited availability of combo points. The assassin used these to do high damage abilities, and the bard uses these to play musical buffs. However, in my opinion this is not necessarily a bad thing. It means that certain souls might complement each other better than others. Some souls will work better together, where others will take more effort to combine with the same efficacy.

This is why I ended up doing either one task (DPS) or the other (buffing), as I did not have the combo points available to do both tasks with the same efficacy as I could do a single task. With this soul combination I thus created a bard/DPS hybrid which did not exclusively focus on buffing the group, but could also blow out damage quite well. I suspect that with more practise, experience, effort, and progression it will be easier to do both tasks. However, sooner or later the player is going to need to make a certain choice, namely, What do I want my character to do. And if you ask me, that is exactly what RIFT is about!

Now let's take a closer look at what a bard actually does. In short, the bard focuses on buffing his or her group. However, I also saw some DPS abilities in the ability list, so it does not appear to be a pure buffing class. All the bard's buffs revolve around music, which is similar to most games that employ bard classes.

So far I have seen a few different types of buff mechanics:
- Toggle buffs. Without cast time or duration, which you can switch in combat.
- Long duration buffs. With cast time, which overwrite each other.
- Short duration buffs. Which takes away combo points.

Now this last buff mechanism is by far the most exciting one for me. It reminds me a little bit of song twisting in EQ, but without the painful and repetitive experience. To elaborate. You have attacks and abilities that grant you combo points. These short duration buffs take away your combo points, but also become more powerful the more combo points you have (the most powerful buff resulting from a maximum of 5 combo points). However, this means that it will take you more time to get your selection of buffs up, as well as provide micro-managing effort to keep all of them up.

What exactly does a bard buff then, you might ask. To provide a few examples, I saw buffs with a minor heal over time, a critical chance increase, a damage increase, and (perhaps more of a debuff) a damage received increase on a specific mob. There were a variety of other buffs, but I honestly can not remember them in enough detail to describe to you.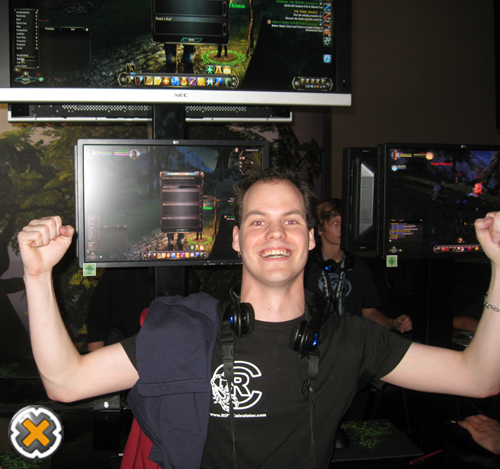 In conclusion, I want to thank all TRION employees present at GamesCom for their interaction with us fans, it was really amazing to see how passionate they were when talking with us about the game. Overall our anticipation of RIFT: Planes of Telara has only grown since attending GamesCom. The soul system is not only dynamic and diverse, but also provides an enormous challenge. It will not be easy to find the perfect combination and setup so you can play just the class you want with maximum efficacy. Moreover, we can't wait to sink our teeth deeper into RIFT's content. As a raid guild it is very exciting to know that, if the group instances are any indication of the raid content to come, we are up for one hell of a ride!


[ Modified by Kalbuir 2010-08-24 15:27 ]
[ Modified by Kalbuir 2010-08-24 15:33 ]



--------------------------------------------------